It was an absolute honor and joy to have our products incorporated into the new MN Vikings training facility, Twin Cities Orthopedics Performance Center.  The impressive 277,000 square foot facility serves as the official team headquarters and practice facility.  The complex has four outdoor practice fields, including two heated fields, an indoor fieldhouse with a 98 foot roof for punting, auditorium and broadcast center and all the amenities of a top notch training center including hydrotherapy and post-workout recovery rooms.  The center serves as the player's home away from home.
Our contributions to the massive project included: handrail, tongue and groove and accent moulding.  As you make your way through the facility, you'll notice a variety of surfaces and textures.  Many of the walnut accents were made here at The Tongue & Groove Store.  We provided the round wood handrail that accents the otherwise metal staircases and many walnut accent mouldings can be found in the auditorium.  The largest display of our work can be seen in the player's locker room.  A large double sided, tongue & groove walnut feature wall is flanked on either side by a gas fireplace and emblazoned with the Vikings logo.  Overhead a football shaped walnut grid system houses a myriad of lights.
We've got nothing but Purple PRIDE for our MN Vikings.  The team had a great run last season and we hope that their new facility gives them a competitive advantage to take them all the way.  We're thrilled to have taken part in such an amazing complex and thank the Vikings for being gracious hosts and allowing us an inside tour of the facility after its completion.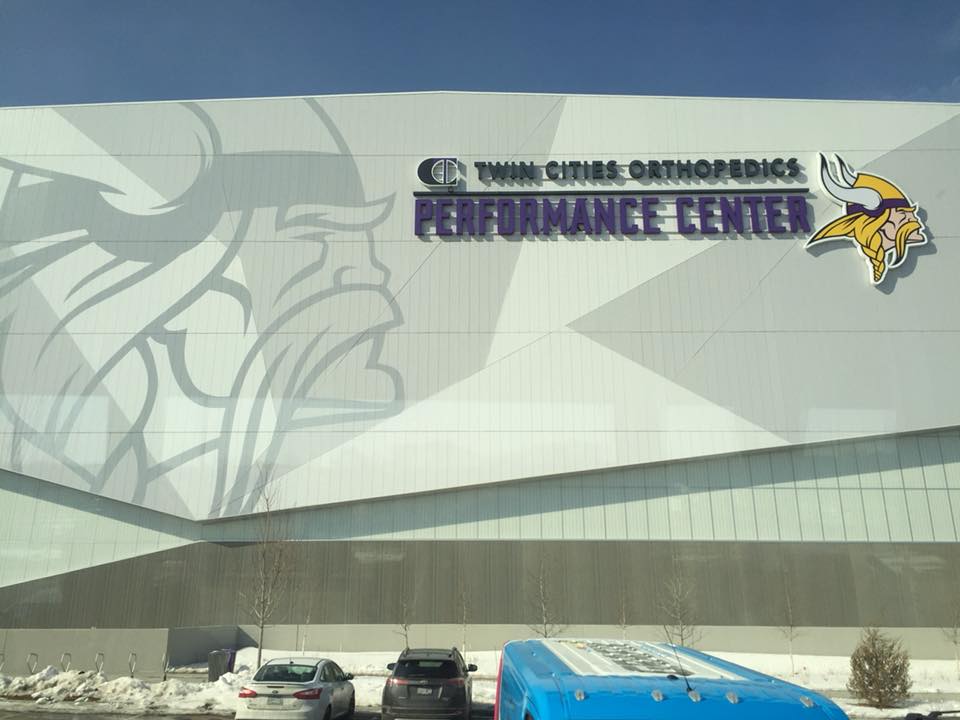 Twin Cities Orthopedics Performance Center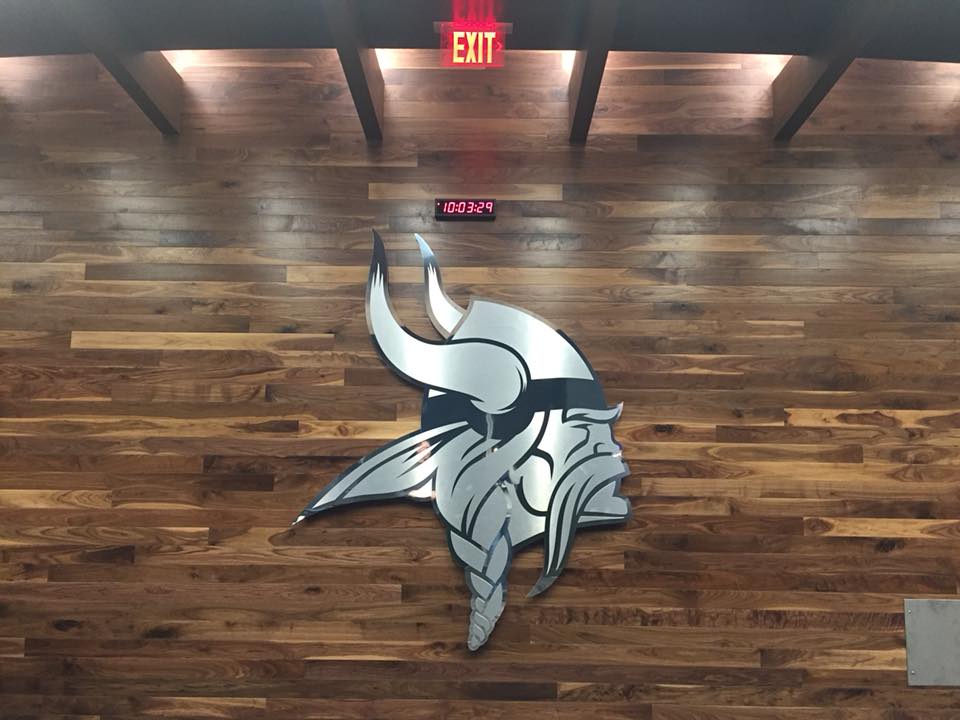 This walnut feature wall in the locker room is flanked on either side by a gas fireplace.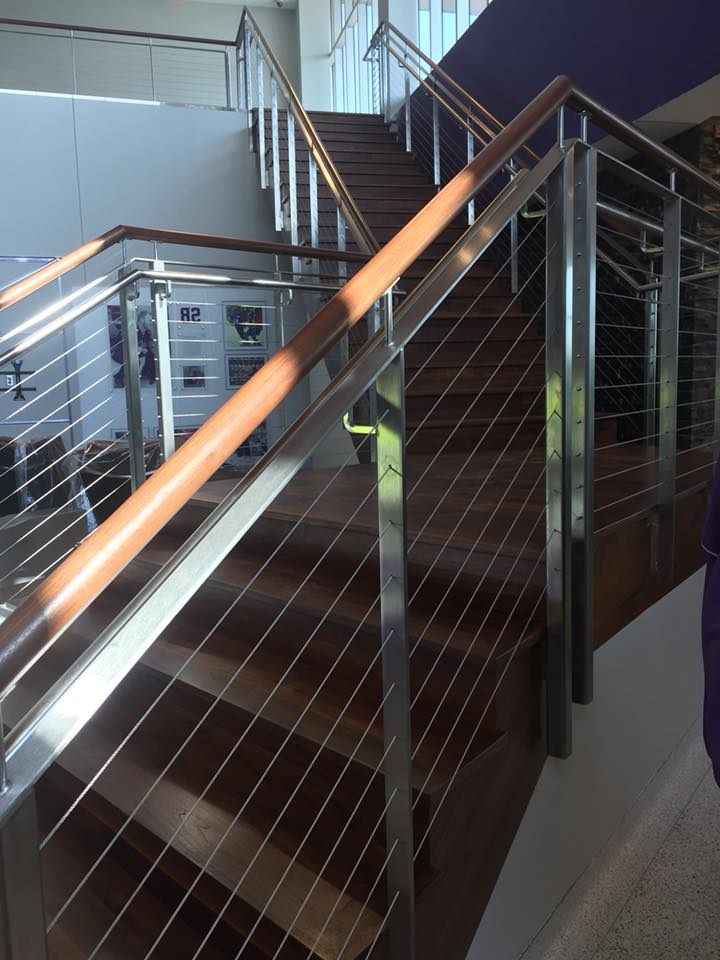 Custom stained walnut rail accents this otherwise metal stair system.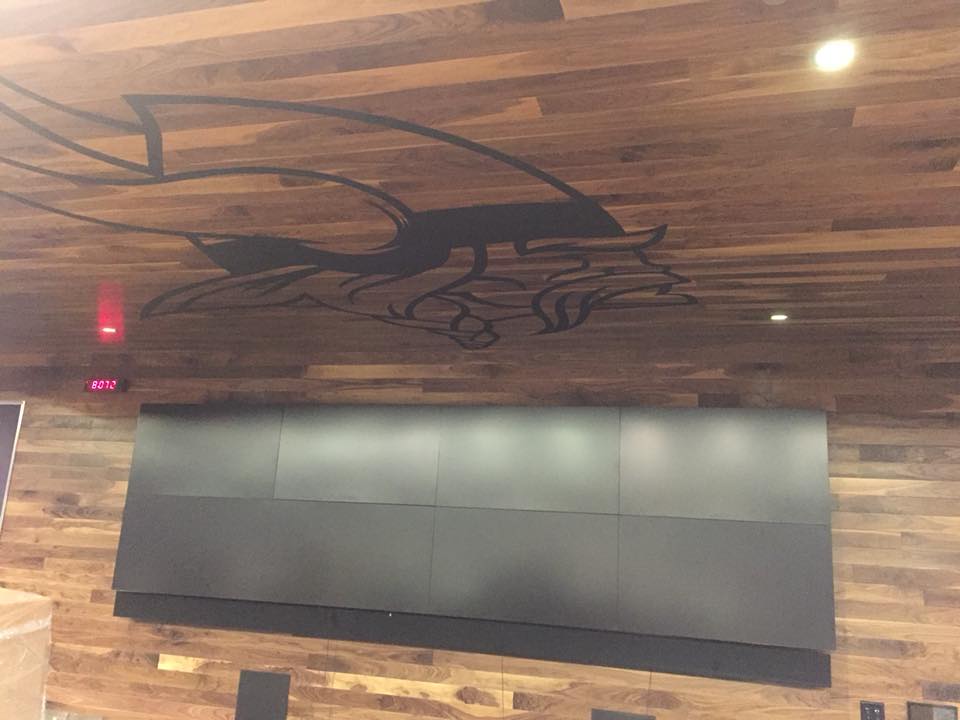 This walnut feature wall extends onto the ceiling in the lounge area of the Viking's locker room at TCO. Notice the Vikings logo on the ceiling just above the massive tv wall.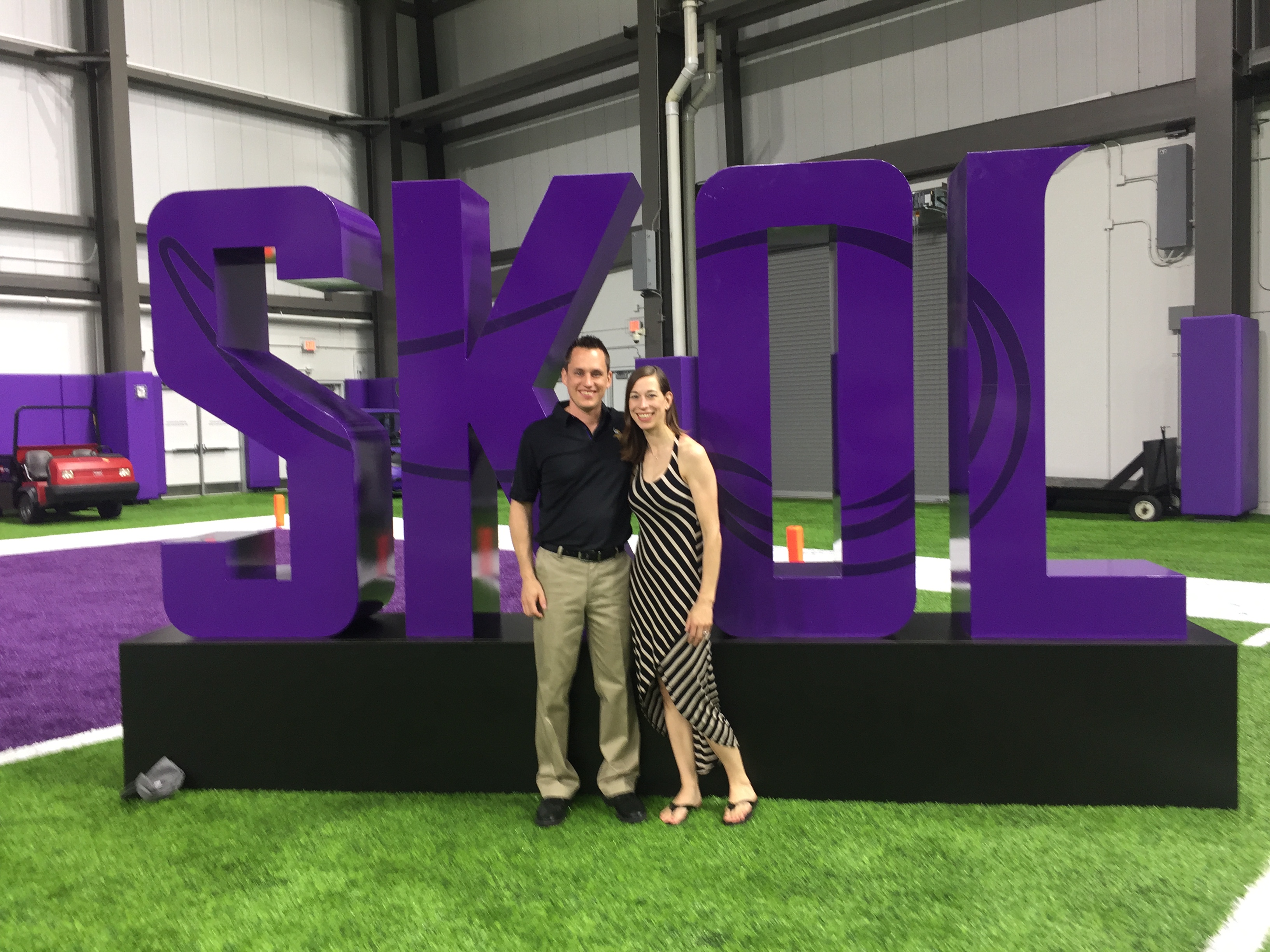 Ann & Kyle show their PURPLE PRIDE at TCO on the indoor practice field.
Walnut accent strips flank the walls of the auditorium at TCO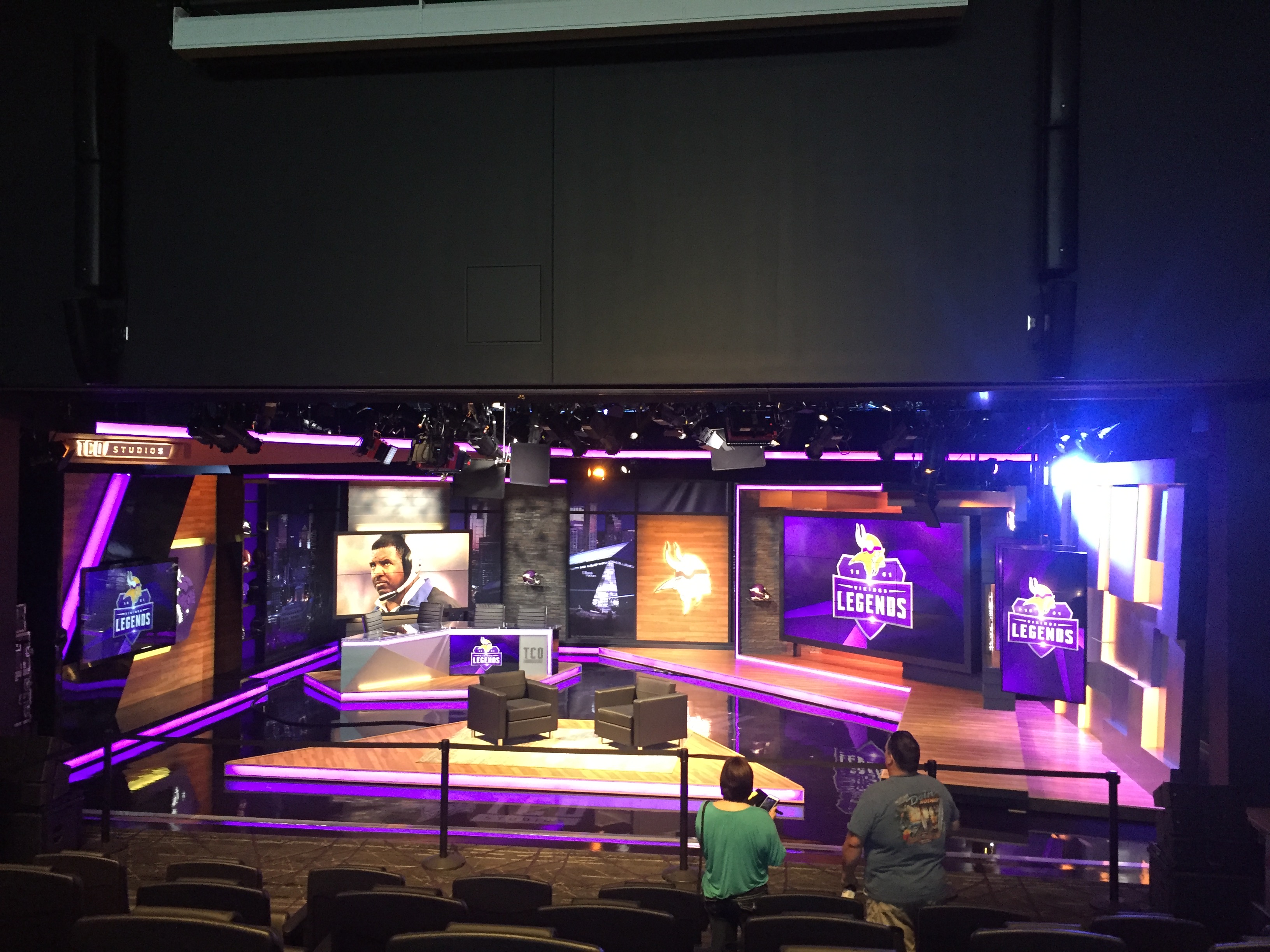 TCO boasts at its own broadcast studio!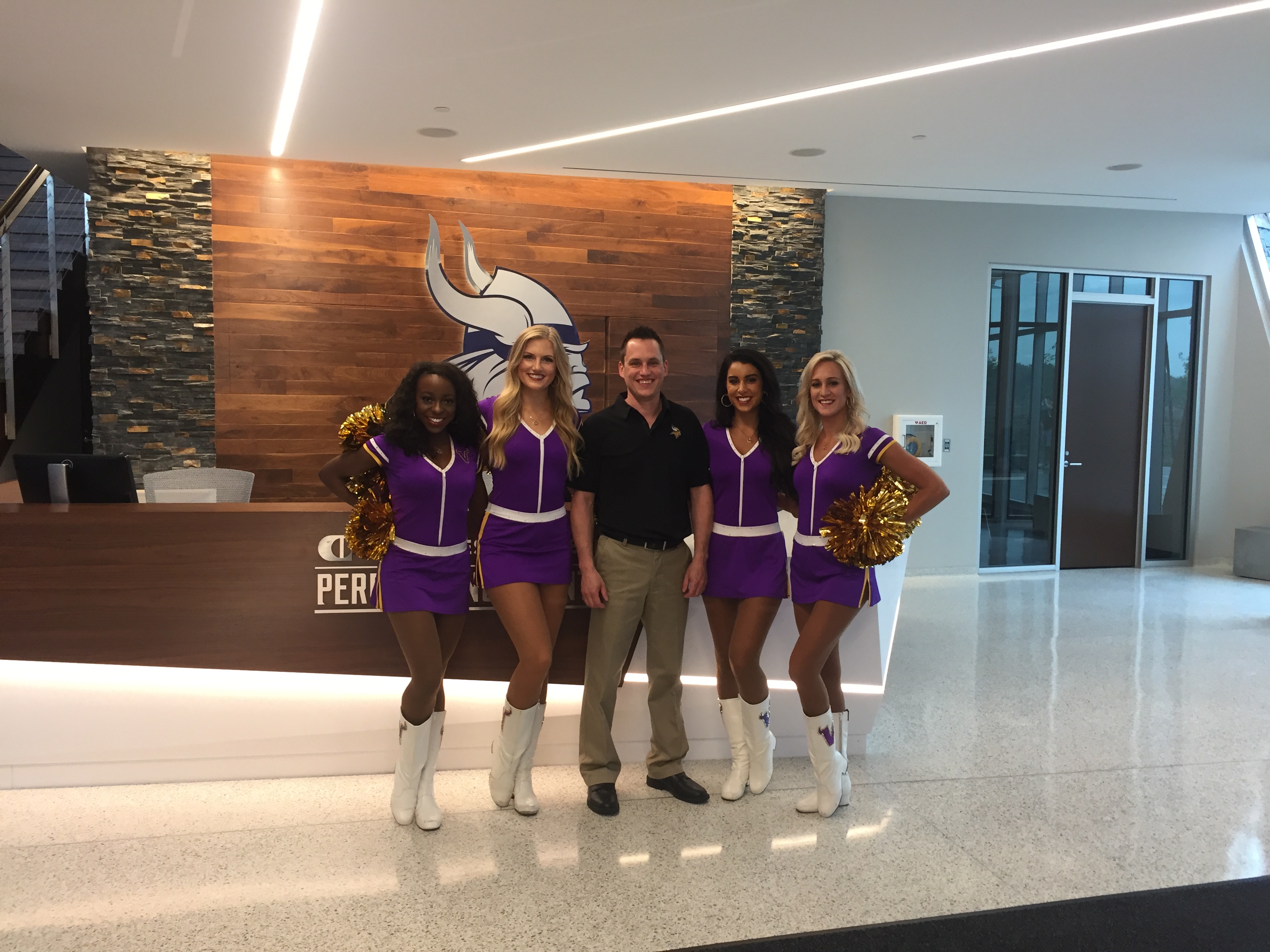 Kyle is joined with the MN Vikings Cheerleaders in front of a walnut accent wall in the lower entry at TCO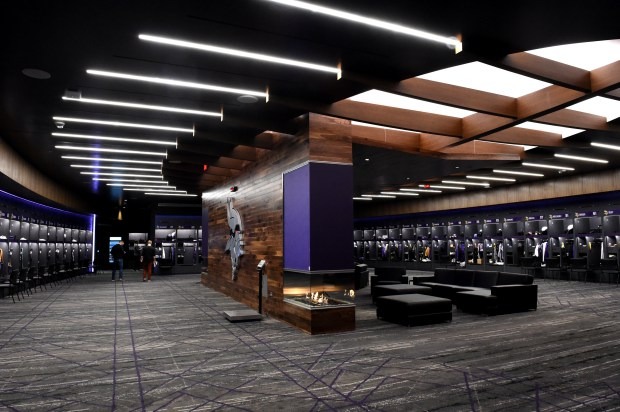 Inside the player's locker room at TCO.  This photo provides a visual for just how large the locker room area is.